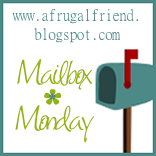 It's time for Mailbox Monday. Time for all of us to share what we received in the mail for FREE! These are a combination of things signed up for.....free samples, free magazine subscriptions and more. It's another slow week, but that's due to just coming off of the holidays.
You'll find updated free samples posted on A Frugal Friend throughout each week. Check back often - I'll do all the work for you.
Here's what came in my mailbox (all for free) just this week:

Magazines:
Business Week
Golf Digest
Marie Claire
Taste of Home Healthy Cooking (thanks to
SheSpeaks
)
Other Freebies:

Philosophy's Gingerbread Man Shower Gel/Bubble Bath
Prizes for Giveaways I've won:
2 coupons for Free Dozen
Horizon Organic Eggs
(Love it)!!!
(I won this over at
Super Coupon Girl
)
***Stay tuned as I'm planning on giving you the 411 on entering, winning, and hosting giveaways!
Join in on Mailbox Monday hosted by A Frugal Friend:
Bloggers -

1. Please grab my Mailbox Monday button and place it on your own Mailbox Monday post.
2. Make sure your readers can link back to A Frugal Friend and join in on the fun
.....make sure it's the temporary link (I'll have a big announcement about this soon)!

3. Once you have your Mailbox Monday post up, come back here and leave your link in the Mister Linky widget.
4. Leave your name and name of your blog too
5. Make sure the link goes directly to your Mailbox Monday post and not your homepage so we can visit easily. Then we'll all come and see what deals you've received.